OM GUARANTEE™ IN 2-MINUTES
The OM Guarantee
kindly ecosystem aims to help socially- responsible and conscious companies make a positive social impact that is not only measurable but certified! 
Our flagship sponsorship product is called the OM Guarantee™ (OMG) and we are exclusively licensing it to those companies whose products and/or services meet all the criteria of corporate social responsibility in their respective industry sector.
These are the steps to get started :
Choose the amount of social impact your company wishes to make and create your custom monthly giving a subscription.
In purchasing your social impact you will agree to a contractual agreement between your company and OM Guarantee™ issuing you the right to use the OM Guarantee™ certification and QR code in your marketing.
Once payment is received, funds will be immediately sent to our charity partner to deliver your OMGs. Once they are delivered, the company representative will receive a notification from OM Guarantee™ and all your OMG outputs will be automatically displayed on your website via a custom code we provide to you, which includes a QR code that your customers can scan to confirm these OMGs on our website. Furthermore, all transactions are captured in the EOS blockchain for transparency. After purchase, you will also be provided high-resolution artwork for packaging if preferred.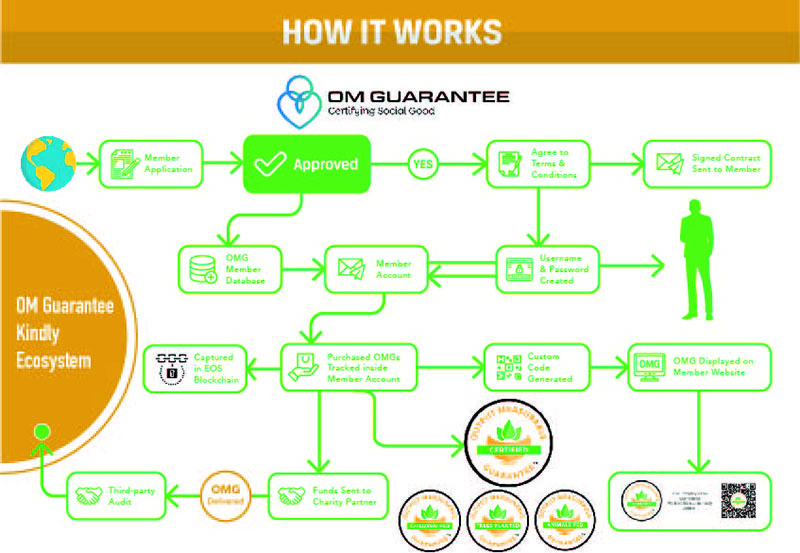 How is the money allocated?
Each OM Guarantee™ costs the participating company $1 to feed a rescued animal, 50 cents to feed a child in need, or 25 cents to plant a tree. This money is collected by OM Guarantee, which owns and manages the OM Guarantee™ certification. From this purchase, a set amount is directly sent to our charity partner to deliver the social output (feeding a child, feeding a rescued animal, or planting a tree. We call this the Charity Output Fees (COF). This COF amount varies depending on the cost to the charity partner and factors can include local economy, fuel, labor, and raw material costs. It is important to note that the COF can vary tremendously from country to country. 
After this COF is directly sent to our non-profit partner, the remaining amount is allocated to operations and marketing, which includes supporting Food for Life Global, who is the principal marketing partner of OM Guarantee and who oversees the contractual agreements between OM Guarantee and our 291+ food relief charity partners.
Another portion of the remaining balance is allocated to the OMG credit account to be used for offsetting the cost to deliver OMGs in more expensive markets.
An independent auditor oversees each one of these transactions to ensure the transparency of the OM Guarantee kindly ecosystem, furthermore, each transaction along the tracking process is captured in the EOS blockchain, a total of 5 separate blockchain records!
Monthly Subscriptions
If you manage a company selling a product or service you can attribute X number of OM Guarantees to the sale of your product or service based on your marketing budget. Depending on the profit margins for your product or service, you can set up a monthly subscription to match the sales of your product or service. Our subscriptions can be adjusted to match actual sales.
Tax Benefits
Unlike a donation to charity, purchasing OM Guarantee certifications can be considered part of your advertising budget, and therefore it may be fully tax-deductible. Please consult your tax expert to confirm.
OM Guarantee Subscription Branding Example
The following is an example of the code displayed on an OM Guarantee™ certified company website. The QR code is for their customers to confirm the actual number of OMGs delivered.

Real example of one our OM Guarantee certified customers
OMG-Certified Business
Join the OM Guarantee kindly ecosystem today and be recognized as an OM Guarantee™ certified company. Membership is free and only members can purchase OMG credits.
What better way to make a positive social impact that is measurable and certified!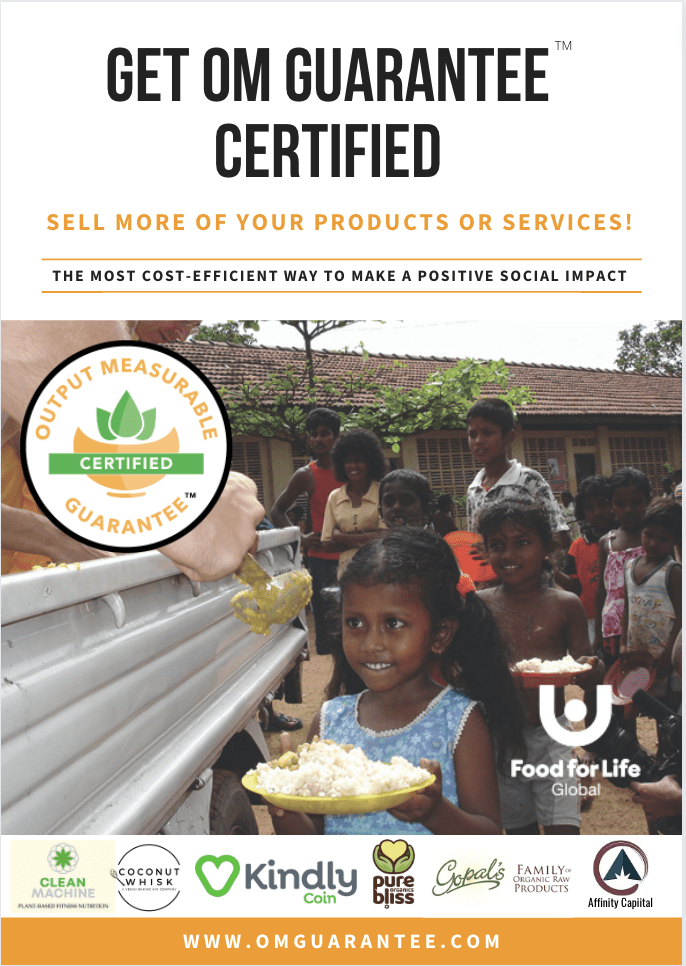 or